so with my lack of a computer it also means i don't have a scanner. this shoddy netbook that i've been working on (grateful as i am for it...) doesn't even have a disc drive so I don't even have the hope of installing a scanner.
anyways...i'm not going to start asking for financial aid...yet. so here's a blurry photo of my piece for the challenge.
when I was younger i looked just like drew barrymore when she was in firestarter (well E.T. too, but i'm a hellion)
my fire was fueled by a love of the ocean, aquatic mammals and drawing. i drew the same mermaid about 100 times over and over when i was younger....always on blue construction paper. so yeah, i wish i had a good clean scan of this, sorry.
James' will be a little late...but i bet it's going to ROCK.
Here I am, sorry I am late, WHEW. Leslie this is awesome! You color is amazing and I love the way your have interpreted your childhood self! I meant to go in a similar direction but ended up leaning toward photo realism. I recently found this old photo of me decked out and on the way to a birthday party, I clearly just got balled out for something and I look pissed and just about to cry. I think it is cute how serious my expression is while I simultaneously clutch my baby cookie monster doll. I don't think I quite got it, I look angry instead of sullen and fiancee says my head is too big and that the picture was cuter, but what ever, C is for Cookie and that is good enough for me! Drawn with ballpoint pen and finished with crayon.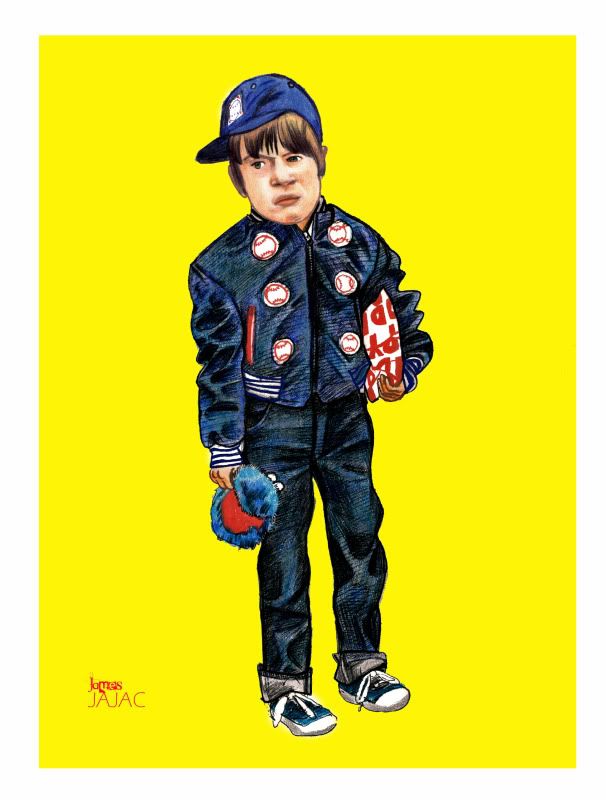 Thanks Leslie!